This is a Sponsored post written by me on behalf of CocoaVia® for SocialSpark. All opinions are 100% mine.
Calling all chocolate lovers! I am about ready to blow your mind sooo you better listen up!!!
Have you tried any of the CocoaVia®CocoaVia® products yet? It is a product made up of cocoa flavanols and the health benefits of cocoa flavanols are amazing. CocoaVia® is a guaranteed source! – You can finally have your cake and eat it too! Not only is it delicious but it's also very versatile. CocoaVia ® comes in two convenient forms: Vegetarian capsules and single-serving powdered stick packs.
• The extract supplement has dark chocolate and fruit flavors.
• You can add the powdered stick to coffee drinks, smoothies, protein shakes, yogurt and more!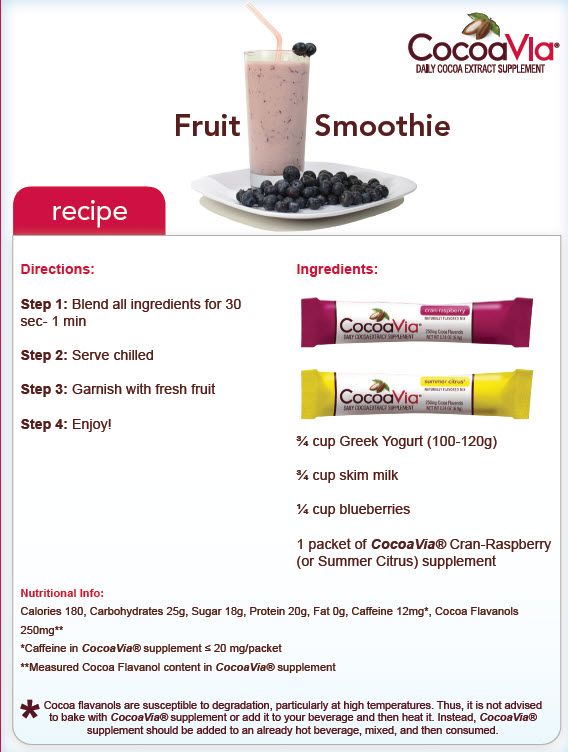 I love using CocoaVia® in a protein shake before or after my workouts! Like the photo below!! It takes my simple spinach and strawberry smoothie to a new level of nutrition benefits and taste! Find more recipes HERE! Recipes This is one healthy supplement you don't want to miss out on!
But, what ARE cocoa flavanolsCocoa Flavanols???
Well to start out, it will surprise you to find out that the benefits of cocoa/chocolate comes from cocoa flavanols, not percentage of cacoa or the darkness of the chocolate.
Cocoa flavanols are powerful phytonutrients, or plant-based nutrients, naturally found in cocoa beans.
Scientific studies demonstrate that within a few hours of consuming a product with cocoa flavanols, the cocoa flavanols enter the body and start to support your cardiovascular/circulatory system.
Although all chocolate is made from cocoa beans, not all chocolate or cocoa-based products contain cocoa flavanols. WHY? …because cocoa flavanols can be easily damaged by heat and humidity.
Flavanols from different sources all have their own unique profile or "fingerprint." Cocoa flavanols are one of the most-researched types of flavanols and no other food on Earth can match the unique blend of flavanols found in cocoa.  
SO, now that we know about cocoa flavanols are, what is CocoaVia®?
CocoaVia® is a daily cocoa extract supplement.  The cocoa flavanols in CocoaVia® are scientifically proven to help support healthy circulation important for: Benefits
Cardiovascular or heart health

Cognitive health

Skin health

Blood flow, including to extremities (like fingers and toes)

Exercise performance
CocoaVia® supplement guarantees the highest concentration of cocoa flavanols available in a dietary supplement.
Where can you find this awesome product?
Online: www.cocoavia.com and www.amazon.com
In stores: Vitamin World, King Soopers, Fred Meyer, Wegman's, Harris Teeter, GNC, Kroger, and independent natural food retailers throughout the country.
OH and if I were you…I would create a unique CocoaVia® recipe and share it as a comment on my blog to enter for a chance to win a CocoaVia® prize pack!
The prize will include a CocoaVia® prize pack that includes two month supply of Co-coaVia® capsules and two boxes of CocoaVia® Dark Chocolate and Fruit Variety stick packs.
HI, you need to try this stuff! AND if you can't wait to win…check out this coupon code!
coupon code ChocLovers20
receive 20% off your purchase (note: Limit one per customer and not valid on cases. Expires 9/30/2014)