This is a sponsored post written by me on behalf of Renew Life Formulas for IZEA. All opinions are 100% mine.
As you may know, I have been on the hunt since the beginning of the year for new fitness and nutrition products. I started with cleanses and now that I am trying to eat very clean aka Paleo, I have been wanting to find products that better my life by helping me reach my clean eating goals all while helping me stay trim. You can imagine my excitement when I found this Skinny Gut Ultimate Shake powder. Renew Life Skinny Gut Ultimate Shakes
The Skinny Gut nutritional supplements make it simple for you to follow a Skinny Gut program. You'll enjoy the convenience and great taste of the organic, grain-free shakes, which are packed full of protein, probiotics, prebiotic soluble fiber, and digestive enzymes, and the organic, soluble fiber formulas easily mix into beverages or soft foods.* Renew Life Skinny Gut products are the perfect supplements to feed your Skinny Gut Life and help promote digestive balance to achieve your ideal weight!
The Skinny Gut program promotes how to balance the good and bad bacteria in our digestive tract to help you achieve your healthy weight goals.* It's a new way of eating that helps curb appetite and cravings.* It encourages the reduction of sugar intake along with an increase of protein, fiber, probiotics and living, fermented foods.*
I have been so impressed with the shake! It offers so much. Just look at what is in ONE serving!
20 grams of Organic, Grain-free Protein from seeds and legumes to help build muscle*
10 grams of Prebiotic Organic Fiber, including acacia fiber, to help curb appetite by helping you feel full*
10 Billion live Ultimate Flora™ Probiotic cultures providing specially selected strains to support healthy gut balance*
Organic Fruit and Veggie Antioxidant blend plus vitamins and minerals to nourish cells.*
Full-spectrum Digestive Enzyme blend to support healthy digestion and help optimize nutrient availability.*
Low fat and low calorie
Available in delicious natural vanilla and chocolate flavors
No Artificial Ingredients or Preservatives
No Added Sugar
Gluten & Dairy Free
No GMOs
Vegan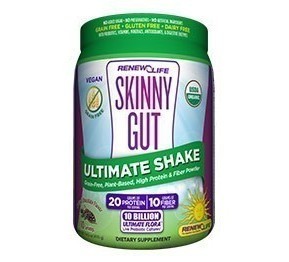 Renew Life Skinny Gut Vanilla Shake Renew Life Skinny Gut Chocolate Shake
Have you tried the #SkinnyGutShake?
*These statements have not been evaluated by the FDA. These products are not intended to diagnose, treat, cure or prevent any disease.