This is a sponsored post written by me on behalf of Clif Bar & Company for IZEA. All opinions are 100% mine.
There aren't many things that make me more excited to workout than new workout gear…EXCEPT new preworkout energy and protein bars! Energizing my body with the right pre and post workout food is so important to me, especially now that I am pregnant, and I LOVE incorporating the CLIF Organic Energy Food and Builder's Bars!
Oh, and don't fret! Those aren't my weight lifting numbers! HA! My husband LOVES the CLIF energy food and builder bars too!
Check out all the info below about both of these amazing energy and source of protein options!
CLIF Organic Energy Food in two new delicious flavors:
Each pouch is made from real food ingredients, inspired by the home recipes of Team CLIF BAR athletes
Certified USDA organic. Organic means non GMO and more!
The oatmeal recipes offer breakfast inspired flavors and are the first portable oatmeal pouches crafted from real food ingredients that athletes need for early morning adventures
Does not contain partially-hydrogenated oils, high fructose corn syrup, artificial flavors or synthetic preservatives.
Oatmeal Usage: Two to three hours before activity.
Offers 20g of complete protein to help build and repair muscle
Carbohydrates to help replenish energy stores and help get you ready for your next workout
Zero grams trans-fat, does not contain partially-hydrogenated oils or high fructose corn syrup
Sources ingredients that are not genetically engineered
Fortified with vitamins and minerals to support protein metabolism
Convenient option for post-workout recovery
Low Glycemic
CLIF Builder's is a great-tasting high-protein bar crafted to help provide nutrition for total body fitness.
Even with great food to energize me, sometimes the motivation is hard to find! Bob Seebohar, a Sports Nutrition Expert, created easy everyday workout and nutrition tips that will energize your body pre, during and post-workout.
#yesplease
Bob Seebohar is a competitive athlete for more than 30 years and is one of the top sports dietitians in the country. Bob is one of the first Board Certified Specialists in Sports Dietetics and is a Sports Dietitian for the United States Olympic Committee where he provides nutrition expertise for Olympic athletes. He is one of the foremost experts on nutrition for endurance athletes and is a regular speaker at many national level conferences as well as triathlon and cycling coaching education clinics. He is also an exercise physiologist, a USA Triathlon Certified Elite Coach, a NSCA Certified Strength and Conditioning Specialist and a competitive triathlete and runner.
He put together this AMAZING infographic of all of his tips for everyday energy! You HAVE to check it out below!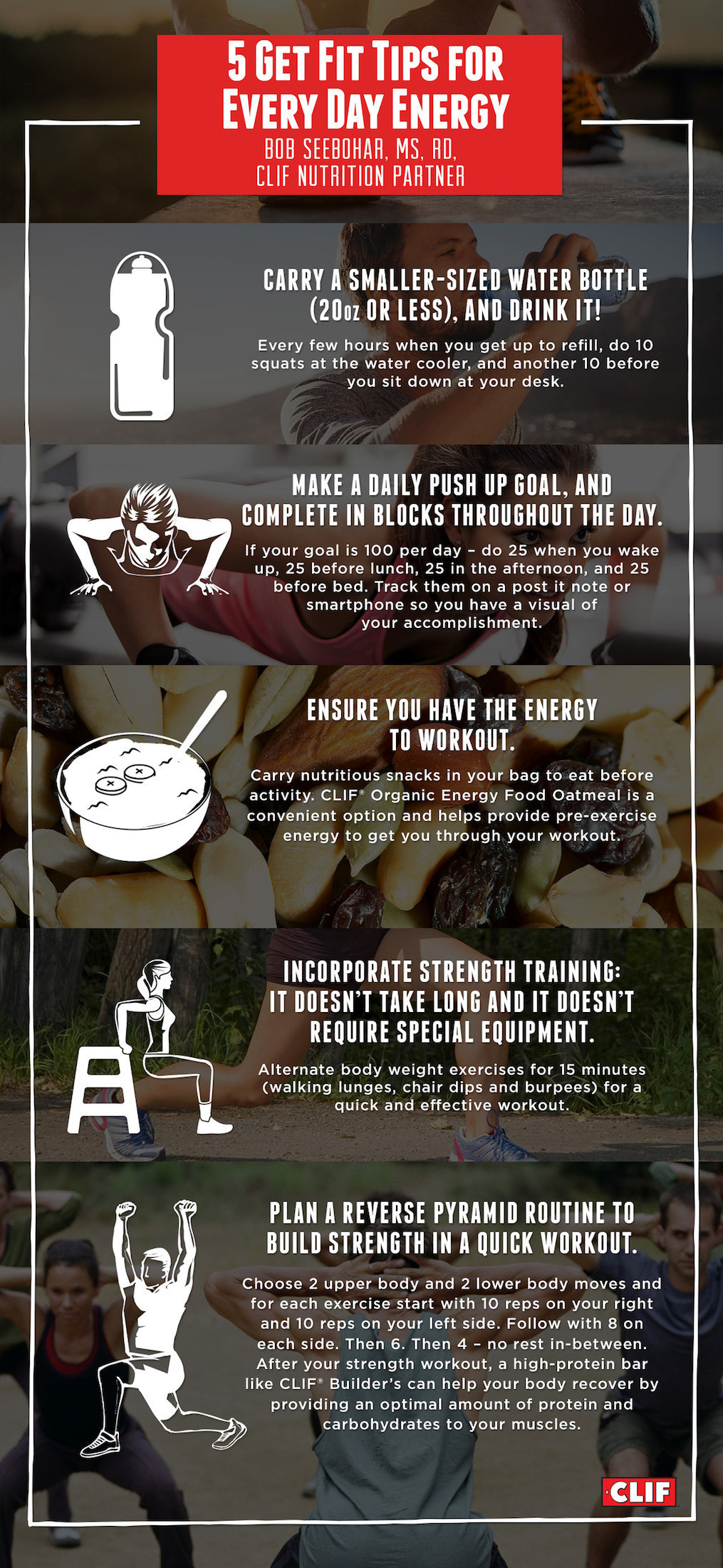 I can't wait to incorporate all these amazing tips AND these bars and energy food into my everyday workout routine! It's going to help me rock this pregnancy even more.
XOXO